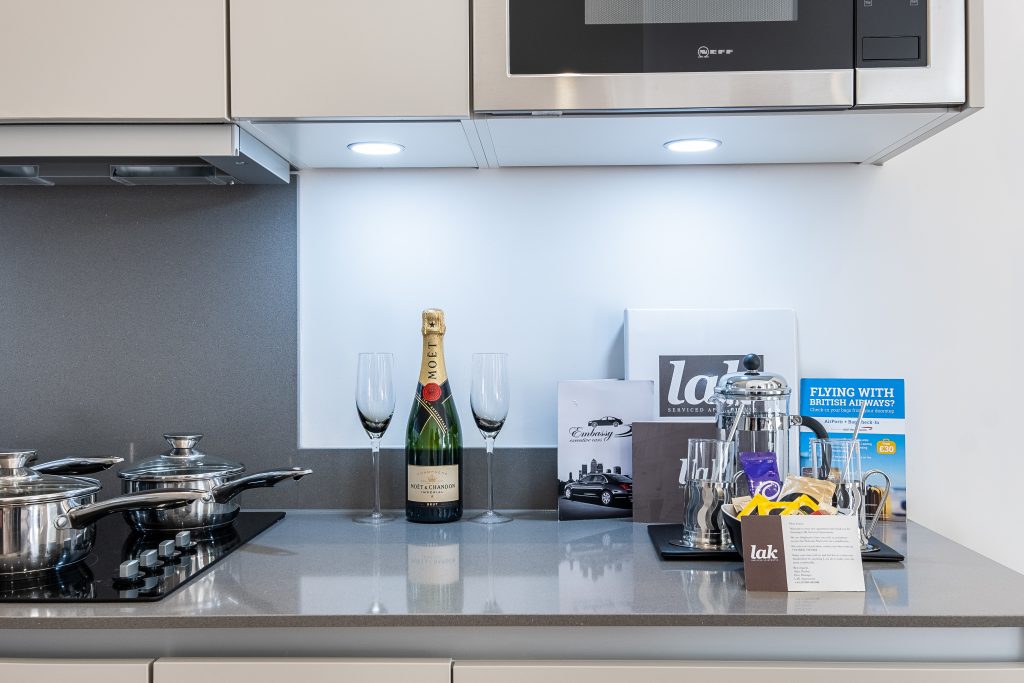 Most frequent questions and answers
so why choose a serviced apartment over a hotel?
The rates offered by London Accommodation Kensington offer much greater value for money than a basic hotel room. But this is not the only benefit. London Accommodation Kensington 4 star apartments offer a more flexible, private and spacious option. Within our secure and well-maintained buildings, you will find an apartment filled with every comfort and amenity. For those nights when you wish to just stay in and relax there is a fully-equipped kitchen so preparing a meal at home couldn't be easier. Want to spend the day in the apartment relaxing or working? In an apartment you will receive a full clean and change of linen (including towels) every week and for the days in between there is total privacy to do as you wish.
It doesn't end there, with vastly more space for living than a hotel room you will feel as if you are at home, with plenty of room to breathe.
SO WHY BE LIMITED TO OFTEN-STERILE HOTEL ROOMS?
Enjoy our apartments, designed with the comforts of home in mind with every amenity at your fingertips. Warm and inviting, you will quickly feel as if you have truly found a home away from home.
WILL I SACRIFICE THE CONVENIENCE OF A HOTEL?
London Accommodation Kensington experience means that we understand that guests staying in an 4 star apartment still wish to have the location and service standard they would find in a hotel. With properties covering the high-demand areas for both leisure and business visitors, there is a property to suit all of our guests' location needs. Service is also of the highest importance to the London Accommodation Kensington  team which is why we have a 24-hour helpline for any out-of-hour's concerns. There is a concierge at all of our properties (usually on duty 24 hours) who can help with the checking-in process and an active and professional team to help with any issues and concerns that may arise during your stay.
SO WHAT'S STOPPING YOU?
With greater value for money, more space, flexibility, privacy and above all a space that will really feel like home, why would you ever choose not to stay in an apartment!
With that in mind, don't hesitate to contact the Crown Lawn team where our friendly sales staff are ready to find the perfect apartment for your next visit to the capital.
Featured Properties 
–

These luxury serviced apartments in South Kensington are in a location considered one of London's most desirable areas. The superb one bedroom property is decorated to a high standard, boasting high ceilings and wooden floors throughout. Ashburn Gardens is a period feature property in a g…
Have a question? Simply fill in your details below and we will do our best to get back to you promptly.